Berkeley Township, NJ Sewerage Authority
Next Regular Meeting
July 18, 2018
Schedule of Meetings
July 18, 2018
August 15, 2018
September 19, 2018
October 17, 2018
November 07, 2018
December 19, 2018
January 16, 2019

(Reorganization)
The Berkeley Township Sewerage Authority (the "Authority") is a public body corporate and politic constituting a political subdivision of the State of New Jersey. Pursuant to the Sewerage Authorities Law, Chapter 138 of the Laws of New Jersey of 1946, the Authority was created by virtue of an ordinance adopted by the Township Committee of the Township of Berkeley on April 19,1961. The Board consists of seven appointed Commissioners, five voting members and two alternates, and is responsible for the fiscal control of the Authority.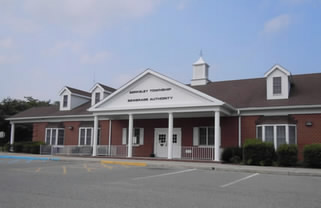 The Authority is a wastewater collection system consisting of approximately 253 miles of 4 inch to 24 inch diameter sewer mains and 14 pump stations. The Authority provides service to in excess of 23,000 customers. The Authority has a contract with the Ocean County Utilities Authority for the treatment and disposal of sewerage.
The Berkeley Township Sewerage Authority is not directly associated with nor does it work in conjunction with any outside bill payment service. The only authorized payment service is the Authority's "E-Z Pay" program. The Authority does not charge customers for this program. For information regarding the "E-Z Pay" program, please contact our Administrative Office at 732-269-3500.
* Please note that Authority meeting minutes are contained under the meeting tab above.
Board of Commissioners:
Chairman: Stephen Pellecchia
Vice Chairman: Nathan Abbe
Secretary: Dolores DePaola
Treasurer: Wendy Colombo
Asst. Secretary: Kevin Askew
Alternate Member: Joe Bruscino
Alternate Member: James Blavat
Professional Staff:
Executive Director: Pete Cunningham [contact]
Superintendent: Lester Anderson
Authority Attorney: Dina Vicari, Esq.
Authority Engineer: Stephen Schreiber, P.E.